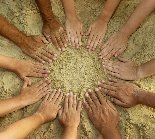 This Facebook Event is for exploring, brainstorming and discussing the idea of setting up an Empathy House Cooperative. The idea is to create a group living situation with perhaps 10 to 15 people who come together for an active and creative exploration of how to nurture, …foster and deepen empathy in a shared housing living situation of some sort.
To build a worldwide culture of empathy and compassion, we'll need to forge and document new ways of relating that foster and nurture these values. There needs to be working empathic models for relating that others can see and copy. A cooperative living situation could be a place to do this exploration and experiment with these empathy deepening forms of living. It would mean bringing together people who have a passion for creating the lived experience of standing in each others shoes and looked thought each others eyes.
Questions:
– What comes up for you around this idea?
– What would an empathic community living and lifestyle look like?
– Would you be interested in taking part in such a co-operative living?
– Where would be a good location?