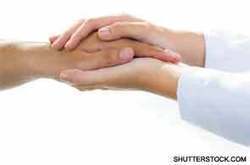 Empathy ability to understand and share the feelings of another.
I believe that the answer lies with empathy. What's unique about this part of the Triple Aim is that many of the answers are within us. Gaining empathy with our patients requires us to ask questions of them and also to ask questions of ourselves. It requires us to invoke ancient methods of learning and thinking, like walking in another's shoes for a day or using the Golden Rule. Experience doesn't lend itself to being taught by PowerPoint. It must be lived and channeled back and out through our emotional selves as empathy
.
Using the wisdom of patients themselves is one way to understand their needs and develop the empathy to motivate us to change how we do things in health care. Many organizations around the country have used some form of patient focus group to help learn from patients. Park Nicollet, a large health system in Minnesota, has incorporated family councils in nearly every clinic and care area. They usually are patients or caregivers from the area, bound together by a common disease or location. They dedicate their time, often meeting monthly, to share their stories, give opinions on care processes, and even to shape the design of a care area. Currently, there are more than 100 patient councils in the system, and the number continues to grow.
Dr. Kealey is medical director of hospital specialties at HealthPartners Medical Group in St. Paul, Minn. He is an SHM board member and SHM president-elect.