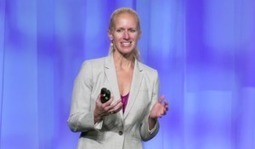 …Adrienne Boissy, Chief Experience Officer of the Cleveland Clinic, a neurologist and a huge supporter and pioneer of harnessing the power of empathy in healthcare. No wonder talking to her was such a breeze! I got a chance to ask her a few questions about how technologies are being chosen in the Cleveland Clinic.
Unlike most people I interview, she started off by asking me about what I do, why I left medicine, and what excites me about technology. Adrienne radiated empathy, and after my first question, it was apparent that it was one of her professional success factors too…
Adrienne gave a talk on the main stage the next day on the power of empathy, and explained how it is the missing link in health care.
Their intent at the Clinic is to build initiatives around patient relationships rather than patient satisfaction surveys.
Perhaps empathy, and patient engagement are still a few years away from being fully realized, but the fact that top executives like Adrienne in large organizations like Cleveland Clinic are already adopting it and making it happen makes me very optimistic of this radical change to realistic value-based medicine.
by OMAR SHAKER