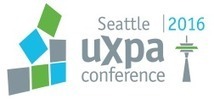 Empathy at Work: Explaining the Who, What, Why and How
Dawn Nidy

Bernadette Irizarry

Indi Young

Dr. Joseph Lee

Andrea Gallagher
Empathy is a hot topic in business lately. Teams who go outside their organization to develop empathy for their customers are crafting winning products that deliver on the wants, needs, and desires of their audiences. But empathy not only plays a critical role with those we serve; it also has a vital role inside the team–collaboration is enhanced and individuals are empowered when their own needs and goals are understood.
This panel will explore the science of empathy and discuss how empathy fits inside our teams and outside with those our experiences are meant to serve. We'll share our perspectives on the positive impact of an empathetic mindset, offer tips on how to cultivate empathy within your own organization, and answer questions you may have.
Our moderator is a UX Strategist and our panelists include a Psychiatrist, a UX Research Consultant and Published Author, a Design Executive, and a UX Manager.