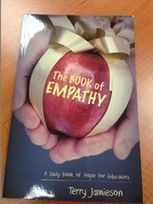 Empathy.
It's what Jesus practiced.
It's what everyone — particularly children — needs.
It's a skill — a gift — teachers must possess if they are going to make a difference in the life of a child, says Terry Jamieson.
And it's the subject of Jamieson's book: "The Book of Empathy: A Daily Book of Hope for Educators," published by New Leaf Press.
Jamieson is athletic director for Ozark High School and he is a man of deep faith, which is shared in his book.
"Christ emphasized the power of teaching in Scripture. He puts incredible responsibility on teachers. I wanted to be a leader before I wanted to be a teacher, and then I realized teaching is leading," the 52-year-old said.
Juliana Goodwin