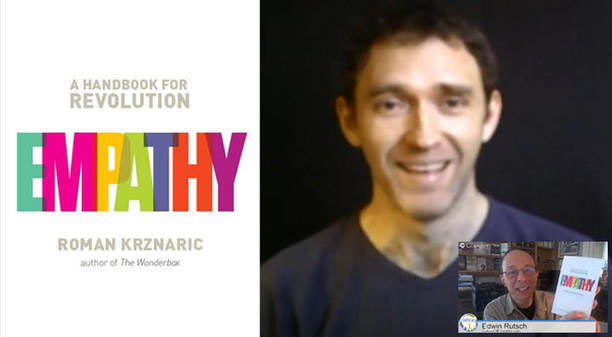 Roman Krznaric is a cultural thinker and writer on the art of living. He is a founding faculty member of The School of Life in London, which offers instruction and inspiration on the important questions of everyday life, and advises organisations including Oxfam and the United Nations on using empathy and conversation to create social change. He has been named by The Observer as one of Britain's leading lifestyle philosophers. Roman is author of Empathy: A Handbook for Revolution.
============================
I believe that empathy – the imaginative
act of stepping into another person's shoes
and viewing the world from their perspective
– is a radical tool for social change
and should be a guiding light
for the art of living.
===========
From the book description; "Through encounters with actors, activists, groundbreaking designers, undercover journalists, nurses, bankers and neuroscientists, Krznaric defines a new breed of adventurer. He sets out the six life-enhancing habits of highly empathetic people, whose skills enable them to connect with others in extraordinary ways.
Empathy has the power to transform relationships, from the personal to the political. Krznaric contends that, as we move on from an age of introspection, empathy will be key to fundamental social change – making this book a manifesto for revolution."