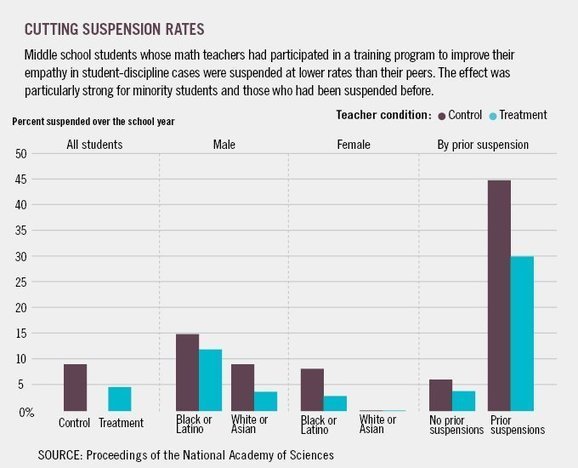 A one-time intervention to help teachers and students empathize with each other halved the number of suspensions at five diverse California middle schools, and helped students who had previously been suspended feel more connected at school,according to Stanford University research published in April in the Proceedings of the National Academy of Sciences.
Building Empathy
Based on the teacher study, Okonofua and his colleagues developed a professional-development workshop for teachers in five middle schools in three districts. Math teachers—chosen because math is a core subject and one associated with a high risk of stereotype threat for black and Latino students—took part in one 45-minute, in-person workshop and one 25-minute, online exercise on ways to resolve misbehavior in class.
Teachers were randomly assigned to either a control group or a training focused on how stress and insecurities that children develop during adolescence can make them detach or act out in school.
…they worked through exercises about empathetic rather than punitive ways to respond to rule breaking.