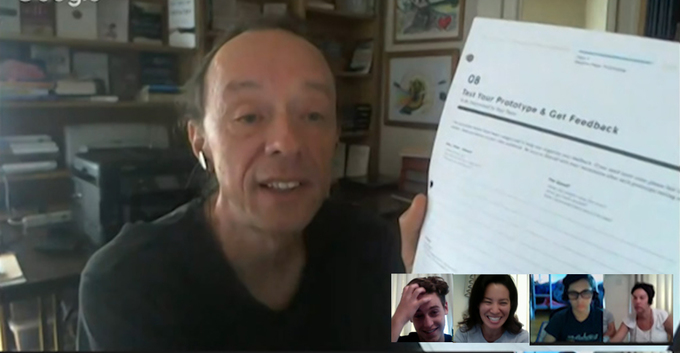 Here are Empathy Team 6 meeting reports We successfully worked thorough the Design Class 4 workbook.
https://sites.google.com/site/empathycodesign/courses/ideo-design-kit
https://www.facebook.com/events/1432429460395307/
Lewis
This time we went through our ideas that we had come up with in the last meeting and began prototyping them. Once we had chosen our favorites and given some feedback we split into two groups and started to draft them up, experiment and implement them.
Edwin
In this class we got into preparing our prototypes. We had also done some initial prototypes that we shared and reported on since last week. I enjoyed the energy of going into the 'doing' and prototyping process and hearing everyone's reports.
Lewis and I formed a team to create a prototype of an empathy circle with role plays of participants taking on the role of superheros and supervillains. They will try to work out their differences. We did an initial test of it which was a lot of fun. I see a lot of potential in this idea for generating engagement and fun for the empathy circle with highschool students. I'm looking forward to next week to see the outcome and to keep iterating on this idea.
Chase
In the meeting today we split up and worked on 2 separate prototypes. We developed important questions to answer about our prototypes and created storyboards. It was exciting to get the ball rolling and seeing our design process getting closer to completion.
Lee-Anne
In today's meeting, we splitup into 2 teams to further develop 2 prototypes:
Superhero & Vilain role play in EC
Animated Inforgraphic to inspire and entice teens to participate in EC's
The outcome was rich as the essence of the Animated Infographic and role plays crystallized and became clearer.
Wendy
In today's meeting we storyboarded for two prototypes, Super Hero and Villians and Animated Infographic to prime teens for an EC. Reviewing the important questions revealed how many steps must be accomplished before testing our Animated Infographic idea. I can see the light at the end of the Human Centered Design tunnel. : )
Reports Participants