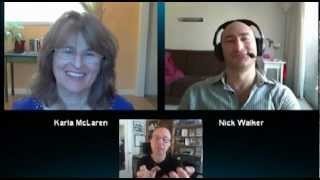 Interview and dialog by Edwin Rutsch. Video Transcripts and more at: http://CultureOfEmpathy.com/References/Experts/Karla-McLaren.htm
Embodying Empathy – An October Workshop In Berkeley!
"Empathy is possibly the most important social skill you possess, yet it can be very fragile. It is common to get triggered and lose the capacity to empathize in the presence of conflict, anger, fear, or anxiety. You may attack or withdraw, or become unable to think or feel your way to a more useful response.
The solution: learn to fully embody your empathy so that it becomes a safe and reliable stance that you can return to in times of trouble.
In Embodying Empathy, somatic psychologist and aikido sensei Nick Walker and empath Karla McLaren will help you access your empathy tangibly so that you can work through your triggers and use all of your emotions as the essential resources they are.
This one-day experiential workshop will help you befriend and strengthen your natural empathic abilities and access your emotional awareness with support and ease."
Interview on: