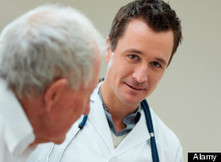 Your doctor may be smart — but is he or she empathetic?
It could make a difference on your health, new research suggests.
The new study, published in the journal Academic Medicine, shows that diabetes patients of doctors who scored lower on a test of empathy were more likely to have a acute metabolic complications associated with their condition, than patients of doctors who scored higher on the test.
The findings show even more "empirical support for the beneficial effects of empathy in patient care," study researcher Mohammadreza Hojat, Ph.D., a research professor in the department of psychiatry and human behavior at Thomas Jefferson University, said in a statement.