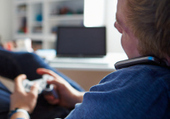 =================
While teens are sometimes dismissed as
lacking empathy due to their stage of
development, they can learn
to empathize with others.
==========
Teens appear to have a generally whiny reputation these days. Some call them overindulged. Others say they lack empathy and expect others to do things for them. Always, the parent takes the blame. While teens are under different stressors today, it is still important to build empathy.
It's easy for teens to get wrapped up in their own lives and emotions. In fact, the teen years can be characterized by door slamming, yelling, eye rolling and other acts of insensitivity.
Edwin Rutsch's insight:
They talk about ways of nurturing empathy
1. Discuss emotions
2. Write it out – writing out their feelings in journals helps.
3. Model It – model the listening
4. Help others – with service event