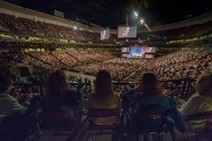 Los Angeles, July 7: Marine Biologists at the University of California, San Diego, have named a new found species in deep ocean water after the Tibetan leader Dalai Lama to mark his 80th birthday celebrated world over on Monday.

Speaking at the second day of the Global Compassion Summit here, the Tibetan spiritual leader said that it is important to create more awareness on environment particularly on Cultivation of land. "When I flew over California I saw lots of area (still) empty (uninhabited) and these (unused lands) can be cultivated.
I (also) aired concern on importance of Desalination some years ago, and some time back I came to know there is a technology that does this. So why don't we make more use of this technology?" asked his Holiness.
By Tsering Choedup