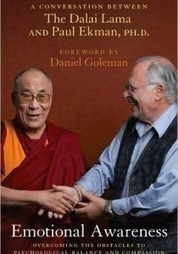 Over the last decade, Paul Ekman has had the opportunity to spend close to 50 hours in one-on-one conversations with the Dalai Lama. The content from their first dialogue was published in the book Emotional Awareness (2008).
During their most recent meeting in New Delhi, India, (January 2012) they spent another 6 hours discussing compassion; this exchange was recorded and segmented into many different webisodes for our series called Developing Global Compassion. We will release and archive a new webisode every 2 weeks beginning June 9th through December 2014.
You can read part of the transcribed conversation and discover how the Dalai Lama responded to Ekman's thinking in the last chapter of his new book Moving Toward Global Compassion.