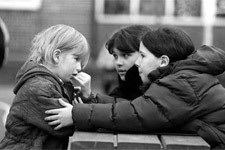 What is Empathy?
Empathy is the ability to understand the feelings of others, feel what they feel, and respond in helpful, compassionate ways. Children who are able to identify with and comfort others make friends more easily, generally perform better academically, and demonstrate a higher level of moral and emotional development.
How do we teach empathy?
Infants: (Birth to 1 yr.) …
Toddlers: (1-2yrs.)

…

( name feelings)
Pre-schoolers: (3-5 Yrs….) (share)
Ages 5 and up:… (model behaviors).

Model empathy…