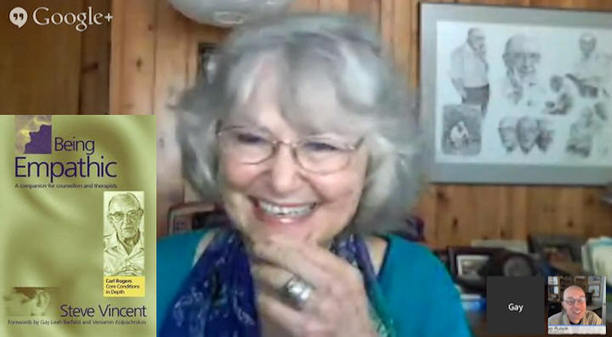 Gay Leah Barfield was a Fellow of Center for Studies of the Person for nearly 30 years where she created one of the first Women's Centers in San Diego, as well as the 22 year long series of "Living Now" Summer Institutes. With Carl R. Rogers she co-directed the Carl Rogers Institute for Peace, applying person-centered principles to real and potential international crisis situations, for which Dr. Rogers was nominated for the Nobel Peace Prize in 1987.
Gay wrote the forward to: Being Empathic: A Companion for Counsellors and Therapists, by Steve Vincent.
She published several chapters in person-centered texts over recent years relating to feminism and politics and PCA, with additional journal articles.
Semi-retired, she continues to see private clients, mentor and train MA graduate student therapists at the University of Hawaii in Hilo, as well as write and publish about her experiences over the past 40 years as a "gatherer," social activist, and stubborn idealist. Her immediate concern for increasing civil discourse, based on Rogerian principles, particularly as applied to the political dialogue process, is paramount among her interests.
Gay and I talked about her work with Carl Rogers, her insights into the nature of empathy and what she sees as the many benefits of empathy.