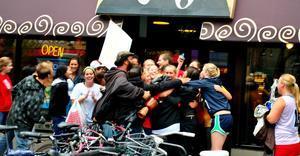 We all know the basics of health 101: eat your veggies, go to the gym and get proper rest. But how many of us know that social connection is as important? Social connection improves physical health and psychological well-being. One telling study showed that lack of social connection is a greater detriment to health than obesity, smoking and high blood pressure. On the the flip side, strong social connection leads to a 50% increased chance of longevity.
Social connection strengthens our immune system (research by Steve Cole shows that genes impacted by social connection also code for immune function and inflammation), helps us recover from disease faster, and may evenlengthen our life. People who feel more connected to others have lower rates of anxiety and depression. Moreover, studies show they also have higher self-esteem, are more empathic to others, more trusting and cooperative and, as a consequence, others are more open to trusting and cooperating with them.
Social connectedness therefore generates a positive feedback loop of social, emotional and physical well-being.
by Emma M. Seppala, Ph.D.