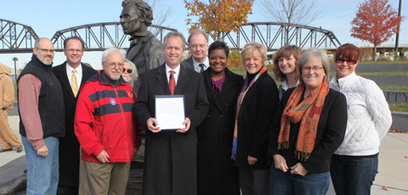 Pursuing his goal of making Louisville an even more compassionate city, Mayor Greg Fischer has signed a resolution adopting the international "Charter for Compassion" – making Louisville the largest city in America to take this action. Louisville will also embark on a 10-year campaign for compassion which will be implemented by a new local group, the Partnership for a Compassionate Louisville. The Partnership will be co-chaired by Louisville attorney Tom Williams and Sadiqa Reynolds, Mayor Fischer's chief of community building.
Compassionate Louisville | Students: Give your views on compassion
This is a special invitation to all schools, all age groups, to tweet, text, write, draw, paint, photograph or video what you see, feel, express or think about compassion. The Courier-Journal will make the selections and publish entries in the Nov. 11 Sunday Forum and online.
Nov. 11 marks the one-year anniversary of Compassionate Louisville. Help the city celebrate by sharing what you see as compassion.
All students from all schools — including home schools — can participate.