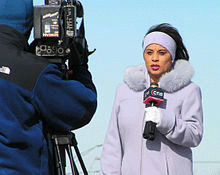 Standing for journalism, strengthening democracy |
Journalism training, media news & how to's…
Journalism education should incorporate the study of empathy and compassion alongside its study of the objective method. The objective reporter who integrates into his or her work an empathetic, compassionate approach does not face irreconcilable demands.
The compassionate act, one that seeks to alleviate suffering, often follows a process that starts with empathy, i.e., the moment within which one connects with the other in an effort to see through his or her eyes, to know something through its meaning for that person.
When journalists practice an ethic of empathy and compassion, they do not forfeit their objectivity. Empathy seeks to understand the other, not produce agreement with the other. For this reason, empathy compels fair treatment of all sources.
Just as one should empathize with the poor person, he or she should empathize with the public official.
Janet Blank-Libra
img http://en.wikipedia.org/wiki/Journalist