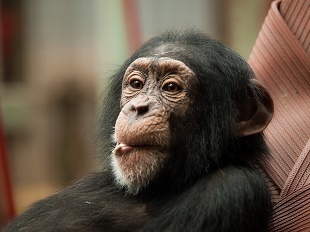 Chimpanzees may reinforce social bonds by involuntarily mimicking a fellow chimp's pupil size.
Like humans, chimpanzees possess a capacity to unconsciously dilate their pupils to match those of a conspecific, according to research published last week (August 20) in PLOS ONE. The results suggest this involuntary action likely evolved to help humans and chimps communicate sympathy and strengthen social bonds within groups.
In face-to-face interactions, people often involuntarily imitate each other's facial expressions, eye blinks, or pupil size to convey empathy.
These physical cues help communicate emotions to both individuals in the interaction, facilitating trust and cooperation within groups. But precisely when and how these signals evolved isn't clear
.By Jyoti Madhusoodanan |