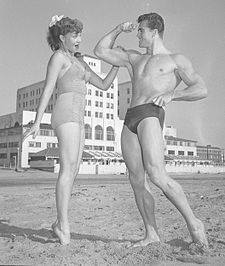 If we're hardwired for empathy, why is there such a frequent disconnect in practice? In large part, it's a matter of awareness. Actively tuning in to this part of ourselves is critical.
'Muscular Empathy'
That striking term comes from a recent article by Ta-Nehisi Coates, senior editor for The Atlantic. By bringing strength and empathy together, Coates is reminding us that to be empathic is to be both curious as well as objectively tenacious in seeking to understand another person's reality. Going even deeper, there is also a fundamental connection between empathy and humility: True empathy helps us step outside of our unconscious habits of self-orientation…
And that's the crux of it. At first glance, "muscular empathy" refers to being rigorous in making conscious efforts to practice empathy. But at a deeper level, this empathy alters decisions: Once we have this kind of awareness, we can't help but take it into account.
by Viral Mehta
img source http://en.wikipedia.org/wiki/Bodybuilding