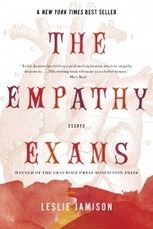 This week I'll be reviewing a collection of nonfiction essays called The Empathy Exams by New York author Leslie Jamison. The book was published this year and won the Graywolf Press Nonfiction Prize. Jamison has also written a novel, The Gin Closet, which was a finalist for the Los Angeles Times First Fiction Prize.
Jamison derives the book's title from her time as a medical actor, when she was paid to act out symptoms for medical students to diagnose.
In her subsequent assessment of how the medical students did, there is a section that asks if he or she 'Voiced empathy for my situation/problem.'
This is a springboard for and perfect introduction to the book. It begs the question of how we feel and respond to other people's pain.
by emadigan,