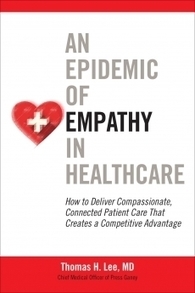 In An Epidemic of Empathy in Healthcare, Dr. Thomas H. Lee outlines a strategy for encouraging health care providers to respond more compassionately to their patients' suffering.
Lee, a practicing physician who has worked on healthcare performance improvement for more than three decades, is currently chief medical officer of Press Ganey, a healthcare analysis and consulting company. Previously, he served as network president for Partners HealthCare System in Massachusetts.
Drawing on that experience and a range of other sources—from social network research to leading healthcare centers' success stories—Lee argues that it's easier than we might think to encourage people throughout the healthcare system to treat patients more empathetically.