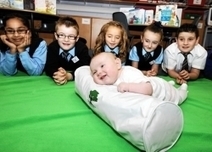 Babies are to be employed as 'tiny teachers' in classrooms throughout the Highlands to make schools a safer place.
The move is part of a pioneering Action for Children programme to reduce levels of bullying and aggression in the classroom.
Roots of Empathy – 'empathy' being the ability to identify and understand another's feelings – is being rolled out in eight schools in the Highlands.
The programme aims to reduce problem behaviour – including fighting and bullying – by encouraging children to interact in a nurturing manner.