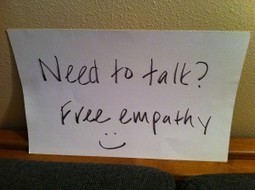 I am lit up about a new idea, and I want to share it with you!
I am dreaming up an "empathy tour."
Empathy has been on my mind a lot lately. As I have been stepping back a bit and re-envisioning what my Dream Into Change practice might look like from a client's perspective, I have been focusing more on my Happy to Listen practice. I really love that work, holding sacred space for people who choose to live consciously to express whatever challenges, triumphs, or explorations are alive for them at any given time.