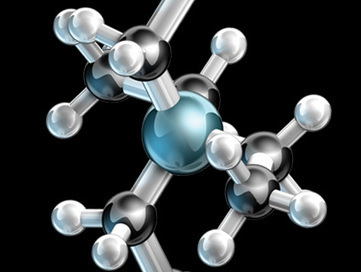 Gasoline lead may explain as much as 90 percent of the rise and fall of violent crime over the past half century."
Experts often suggest that crime resembles an epidemic. But what kind? Karl Smith, a professor of public economics and government at the University of North Carolina-Chapel Hill, has a good rule of thumb for categorizing epidemics: If it spreads along lines of communication, he says, the cause is information. Think Bieber Fever. If it travels along major transportation routes, the cause is microbial. Think influenza. If it spreads out like a fan, the cause is an insect. Think malaria. But if it's everywhere, all at once—as both the rise of crime in the '60s and '70s and the fall of crime in the '90s seemed to be—the cause is a molecule.
A molecule? That sounds crazy. What molecule could be responsible for a steep and sudden decline in violent crime?
Well, here's one possibility: Pb(CH2CH3)4.
IN 1994, RICK NEVIN WAS A CONSULTANT working for the US Department of Housing and Urban Development on the costs and benefits of removing lead paint from old houses. This has been a topic of intense study because of the growing body of research linking lead exposure in small children with a whole raft of complications later in life, including lower IQ, hyperactivity, behavioral problems, and learning disabilities.
But as Nevin was working on that assignment, his client suggested they might be missing something. A recent study had suggested a link between childhood lead exposure and juvenile delinquency later on. Maybe reducing lead exposure had an effect on violent crime too?
That tip took Nevin in a different direction. The biggest source of lead in the postwar era, it turns out, wasn't paint. It was leaded gasoline. And if you chart the rise and fall of atmospheric lead caused by the rise and fall of leaded gasoline consumption, you get a pretty simple upside-down U: Lead emissions from tailpipes rose steadily from the early '40s through the early '70s, nearly quadrupling over that period. Then, as unleaded gasoline began to replace leaded gasoline, emissions plummeted.
Intriguingly, violent crime rates followed the same upside-down U pattern. The only thing different was the time period: Crime rates rose dramatically in the '60s through the '80s, and then began dropping steadily starting in the early '90s. The two curves looked eerily identical, but were offset by about 20 years.
So Nevin dove in further, digging up detailed data on lead emissions and crime rates to see if the similarity of the curves was as good as it seemed. It turned out to be even better: In a 2000 paper (PDF) he concluded that if you add a lag time of 23 years, lead emissions from automobiles explain 90 percent of the variation in violent crime in America. Toddlers who ingested high levels of lead in the '40s and '50s really were more likely to become violent criminals in the '60s, '70s, and '80s.
And with that we have our molecule: tetraethyl lead, the gasoline additive invented by General Motors in the 1920s to prevent knocking and pinging in high-performance engines. As auto sales boomed after World War II, and drivers in powerful new cars increasingly asked service station attendants to "fill 'er up with ethyl," they were unwittingly creating a crime wave two decades later.
It was an exciting conjecture, and it prompted an immediate wave of…nothing. Nevin's paper was almost completely ignored, and in one sense it's easy to see why—Nevin is an economist, not a criminologist, and his paper was published in Environmental Research, not a journal with a big readership in the criminology community. What's more, a single correlation between two curves isn't all that impressive, econometrically speaking. Sales of vinyl LPs rose in the postwar period too, and then declined in the '80s and '90s. Lots of things follow a pattern like that. So no matter how good the fit, if you only have a single correlation it might just be a coincidence. You need to do something more to establish causality.
As it turns out, however, a few hundred miles north someone was doing just that. In the late '90s, Jessica Wolpaw Reyes was a graduate student at Harvard casting around for a dissertation topic that eventually became a study she published in 2007 as a public health policy professor at Amherst. "I learned about lead because I was pregnant and living in old housing in Harvard Square," she told me, and after attending a talk where futureFreakonomics star Levitt outlined his abortion/crime theory, she started thinking about lead and crime. Although the association seemed plausible, she wanted to find out whether increased lead exposure caused increases in crime. But how?
The answer, it turned out, involved "several months of cold calling" to find lead emissions data at the state level. During the '70s and '80s, the introduction of the catalytic converter, combined with increasingly stringent Environmental Protection Agency rules, steadily reduced the amount of leaded gasoline used in America, but Reyes discovered that this reduction wasn't uniform. In fact, use of leaded gasoline varied widely among states, and this gave Reyes the opening she needed. If childhood lead exposure really did produce criminal behavior in adults, you'd expect that in states where consumption of leaded gasoline declined slowly, crime would decline slowly too. Conversely, in states where it declined quickly, crime would decline quickly. And that's exactly what she found.
Meanwhile, Nevin had kept busy as well, and in 2007 he published a new paper looking atcrime trends around the world (PDF). This way, he could make sure the close match he'd found between the lead curve and the crime curve wasn't just a coincidence. Sure, maybe the real culprit in the United States was something else happening at the exact same time, but what are the odds of that same something happening at several different times in several different countries?
Nevin collected lead data and crime data for Australia and found a close match. Ditto for Canada. And Great Britain and Finland and France and Italy and New Zealand and West Germany. Every time, the two curves fit each other astonishingly well. When I spoke to Nevin about this, I asked him if he had ever found a country that didn't fit the theory. "No," he replied. "Not one."