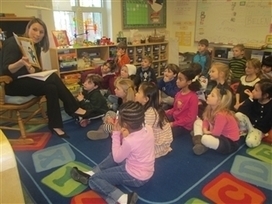 This week, the first grade students completed Roots of Empathy Theme 3:
Caring and Planning for Baby.
In this series of lessons, the first graders explored the many responsibilities of caring for a baby, including understanding and responding to their needs and learning the routines of feeding, bathing and diaper changing, The parents of our Roots of Empathy babies even went through each item in their diaper bag so the students could visualize the (many!) various items that accompany the babies when they leave home for an outing!