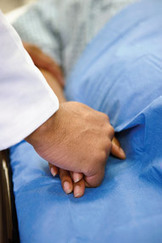 It's not hard to understand why patients might value empathy in medicine.
"Who doesn't want to have a physician who understands what they're feeling? Everybody wants that. Everybody feels in their gut that is important," said Daniel Z. Louis, managing director of the Center for Research in Medical Education and Health Care at Jefferson Medical College in Philadelphia.
But Mr. Louis and his colleagues suspected that the benefits of empathy extend beyond good feelings, and they recently found evidence for it in a study of 242 Italian primary care physicians and 20,961 diabetic patients.
By Stacey Butterfield