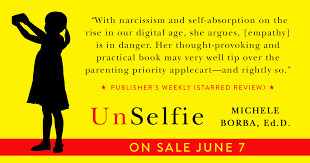 From the book "Unselfie: Why Empathetic Kids Succeed in Our All-About-Me World," the author Borba recommends the following nine steps to teach your child empathy.
1. Develop Emotional Literacy.
2. Create a Family Mission Statement.
3. Stay Focused On "Other.
4. Read Good Books.
5. Just Breathe.
6. Practice Kindness.
7. Teach Conflict Resolution
8. Stick Your Neck Out.
9. Raise a Difference Maker.
Rachel Velishek