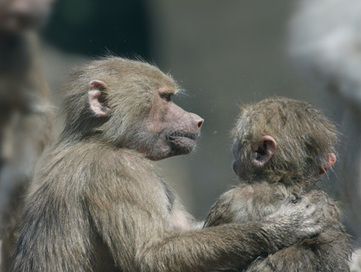 Renowned primatologist Frans de Waal argues that our own sense of morality can be traced back to our primate relatives.
If you're a Christian fundamentalist, you probably believe that morality comes directly from God (via a download of the Bible, to be sure). And if you're a law-and-order conservative, you likely think we need strict rules, and harsh punishments, to keep people in line and prevent their baser impulses from taking over.
But if you're a primatologist? In that case, your view of morality is radically different. You probably see indications of "moral" behaviors all throughout the animal kingdom, and especially among our primate relatives such as bonobos—who show high levels of empathy, have a female-dominated social structure, and use sex, rather than violence, to solve in-group social conflicts, and even when they encounter other, potentially hostile groups.
By Chris Mooney